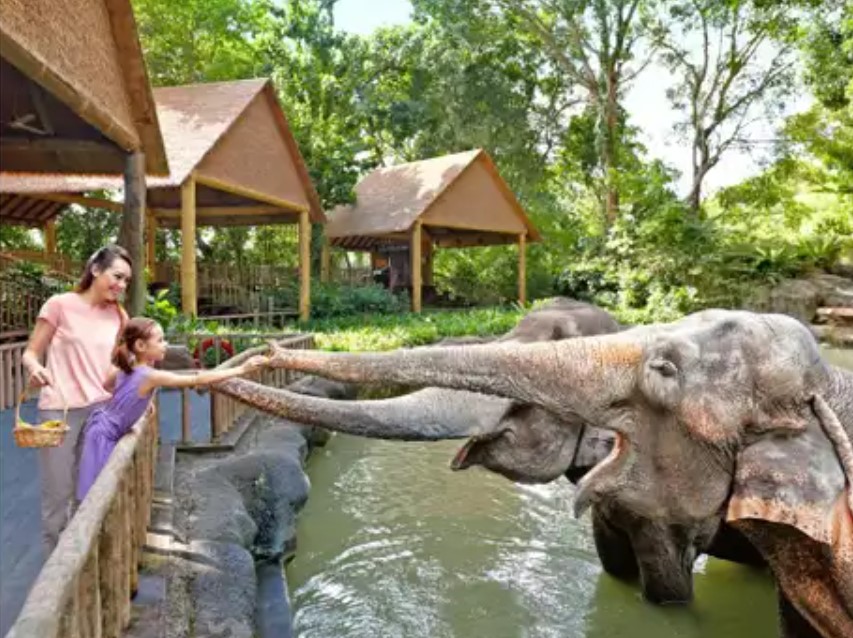 Need help for a rewarding zoo tour? Even though you are now unable to travel, you can always dream about your future trip and plan ahead. Talking about zoos, Singapore's wildlife parks, the Singapore Zoo is one of my personal favorites, and to go there it needs a lot of preparation and planning ahead. Let me tell you why. 
As a yearly visitor to Singapore Zoo, I can tell you that it's very unlikely that you have the time to see everything in the zoo within a day. My family and I have missed all the animal feedings and shows in our first visit to the zoo. During our second visit, I made an effort to see all the animal shows, but missed out on the animal feeding sessions, and the story goes on.
With this article, I'm going to advise you to always adjust your expectations, book and plan ahead, and you are going to have a great time. Knowing what to expect is an integral part of having a successful zoo visit. Walking around the animals' enclosures is amazing enough, so book online for the animal feedings, get set for safe distancing and possible wet weather, and you'll be fine! Go on a weekday if you can, as it tends to be less crowded. Other than that, always book Singapore Zoo tickets online and reserve your time slots. I always book mine at Traveloka, because it's easy, fast and secure.
Now, let's move on to the fun part. If you are the same as me and already plan to visit Singapore zoo once it's safe to do so, you guys should check out my guide below so that you guys know what to look out for. From safety procedures to must-see attractions and more. Shall we begin?
Practice Safe Distancing
The park now is operating at 25 per cent capacity, but there are certain areas where people cluster, such as at the entrance and at the restaurants, it can sometimes feel too crowded for comfort. But once you venture out to the various animal enclosures and along the roads, it will feel much less packed with people. Aside from that, a friend of mine also told me that currently groups moving together have to be no larger than five, and there are boxes marked out on the ground for safe distancing, but when one is excited about spotting an animal, always remember about safe distancing and not huddling together!
And most importantly, wear a mask! It probably feels hot and steamy enough at the zoo even during normal times, and after an hour out in the sun, your mask probably will feel like soaking wet with sweat. I totally can imagine that and not exactly the most comfortable feeling,  but it's necessary
Get up close and personal with your favorite animals by token feeding them
Animal token feeding sessions are held throughout the day at the animal exhibits. At these sessions, a keeper will share information about the animal and their habits. These token feeding sessions are a great way to learn about the Singapore Zoo's animals, and the more you learn about them, the more you will be able to appreciate them.
Not only is it an exciting experience, you will also get to learn more about the animals through their behaviours and interactions. If i'm not mistaken, for a small fee of $5 each, you can already feed a giraffe, elephant, goat, the white rhinoceros and giant tortoise at the Singapore Zoo. What's amazing is that the proceeds from the feedings will also help to fund the zoo's wildlife conservation efforts in the region. How cool is that, right? My favorite animal is the giraffe.
A little simple tip from me is that before and after feeding the animals, always remember to wash your hands with soap at the skins near the feeding spots! Hand sanitizers area also available, so you can practice personal hygiene throughout your visit to the zoo.
Learn interesting facts about the animals at the amazing animal shows
One thing you definitely can't miss is the Animal Shows! This is the time where you'll get to witness the incredible talents of the animals alongside their trainers. My personal favorite is to watch the California Sea Lions glide, but there are also other rainforest animals like monkeys or lemurs that would jump and fly above you.
Visiting with kids? No worries, because the zoo's animal shows are very interesting, educational and entertaining. These shows will make you and your kids laugh, yell and amazed with the performances
There are two sessions for5.  each show and they last for about 15-20 minutes. Do arrive early as the shows operate at limited capacity. Once full, they won't be able to accept more guests. Trust me, this is worth your time. By the way, for this you might want to double check for other programmes, experiences or animals exhibits because it may also be temporarily closed due to safety measures.
Take a fun ride on River Safari's Amazon River Guest
This is a must visit attraction when you go to River Safari – The Amazon River Guest! The boat adventure is designated to simulate a journey along the Amazon River. Some of the animals you can't miss here are the jaguars, tapirs and giant anteaters.
Don't forget to meet the stars of the Singapore Zoo – Proboscis Monkey
Known for their big noses and tummies, these monkeys are at very high risk of extinction in the wild. Other than that, you also cannot miss on the Sumatran and Bornean orangutans. It is truly fascinating to see them up close and watch their humanlike behaviour.
Look out for special events at the Singapore Zoo
There's never a dull moment at the zoo, as you can look forward to special events that are happening all year-round. For those of you, who can't stand the desire to go the zoo, you can still interact virtually with the animals through their special program
You can book a customized virtual experience and get to know the unique personalities of various animals. The park also occasionally holds themed events during the school holidays that are made for children, from Disney Outdoor explore, Zoolympix, Zoo-rassic park and more. These programmes are great occasions for kids to learn about wildlife conservation through fun activities.  So before you plan to visit the zoo, always look out for special events that will make your visit even more fun
Splash Safari
Splash Safari calls for the best experience of witnessing tricks performed by the aquatic animals and water birds. The stars of the show include seals, sea lions, dolphins and pelicans. Water birds show how they are able to catch fish and dolphins swim almost at a touchable distance.
Stay up late for Night Safari
If you're still going strong come nightfall, the Night Safari is the park of nocturnal adventuring. Even if you're not joining a tour, definitely make time to see the Creatures of the Night Show, where nocturnal critters like otters and hyenas spring to action. Entry is free, so make sure to find your seats early before they're all snapped up!
Rent Prams and Wagons
Visiting with young children? Bring a pram because there is a lot of distance to cover. Alternatively, you can rent a pram and wagon for young children, while you are at the zoo. These rentals can be found immediately to the right of the entrance after entering Singapore zoo.
Bring your own bottle
Singapore Zoo always focuses on the message about conservation. You can play a role in conservation by bringing your own reusable water bottles to the zoo. These bottles can be refilled at special filtered water dispensers found Ah Meng Bistro and close to RepTopia and is a green alternative to purchasing one-time-use bottled water at Singapore Zoo
All I can say is that, whether  you're travelling to SIngapore with kids or not, I repeat this is an absolute MUST-SEE attraction that you cannot miss out on. Thanks for reading up till the end! I hope this article clears the wonder regarding Singapore Zoo.
Related Posts