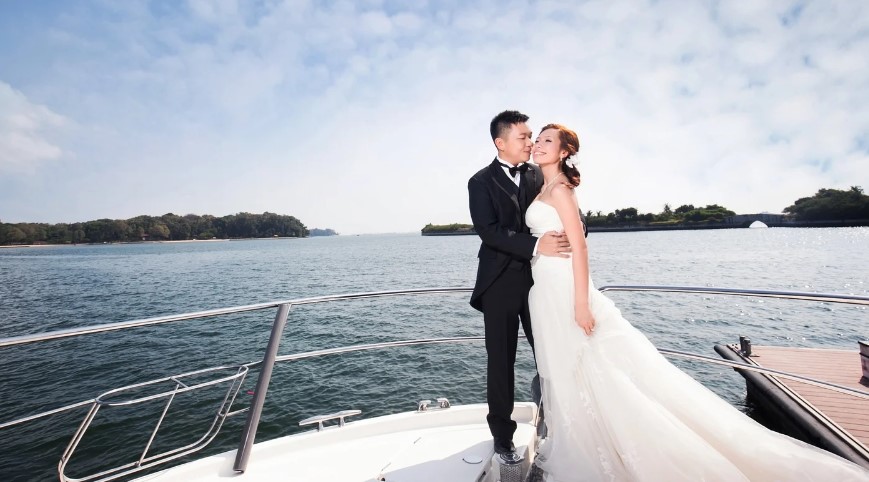 Boats are an interesting venue for a wedding. There's something romantic about getting married on the water. You can tie the knot near a beach, a dock, on the boat itself, or underwater in a submarine.
Consider The Budget
If you are using a private cruise, consider how much it will cost to rent. If it's a public boat, check if there is an added cost for reserving space on the cruise and other details. Also, consider the duration of the ride and the number of guests.
Decide How To Decorate The Boat
You can decorate your wedding boat with flowers, balloons, and other items to personalize it just how you want. This is especially important if you want everything from centerpieces to lighting. Ensure every detail is checked and the decorations match the event's theme.
Consider The Guest's Lists
Guests are not all the same. Some may not be up to spending hours on a boat. Others may have motion sickness, fear water, or just don't want their hair messed up by wind. Consult the guests to make sure they can handle it before inviting them aboard your wedding ship.
Wedding venue
The wedding location will determine the type of ship you should use. For example, consider a cruise ship if you are planning an ocean wedding. However, if you plan a coastal or dock wedding, you may find smaller boats more appropriate.
Think About Time
If booking a private charter, check what times they are available and whether they fit into your wedding schedule. Also, if it's a sunset wedding, make sure the sun's position won't interfere with photos, vows, or guests' views. If you like whale watching, plan your wedding at the appropriate time.
Consider The Weather
You can't control Mother Nature, so it's important to have a Plan B in case of changing weather. If you don't want an indoor wedding, talk with the captain about what happens if the weather changes. Will they cancel the trip? Or will they try to change course to get out of the storm? You could also consider carrying tents.
Plan The Meals
Work with your catering service to provide enough food for all your guests. Since space on board is limited, you may need to go with foods served in trays instead of a full meal. However, make sure there are enough items to feed everyone. It's also important to consider any special dietary needs of your guests when choosing foods.
Consider Boat's Size
Whether you're looking to rent a party boat or a yacht, your first step is deciding how many people you plan to invite. That will help determine the size of the vessel. Smaller boats fit about 30 people, while larger boats can accommodate hundreds of guests. If you want more space, consider renting two or more yachts and having them dock together simultaneously.
Consider Guests' Safety
Make sure that all of your guests are safe. You don't want anyone getting sick or falling overboard during your yacht wedding because they were not wearing proper clothing or because they did not have enough room for themselves.
Get The Right Permits
Like traditional weddings, boats require permits and licenses before "I do" takes place. These vary by state and the type of vessel you'll use. Many cruise ships don't allow children on board when they leave port. So, if you have little ones in your family, make sure you get that in writing before booking the trip.
A wedding is a memorable event you can celebrate the way you want. To get a successful boat wedding, you should book the boat early, inspect, plan meals, get the permits, and have a backup plan. In addition, consider the weather, because it can turn the whole event messy.
Related Posts